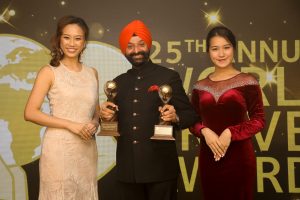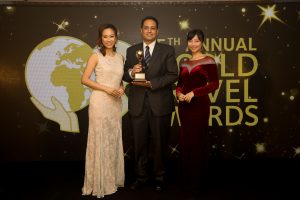 On September 3rd, at a red-carpet Gala at the World Travel Awards Asia & Australasia 2018 Gala Ceremony in Hong Kong, Creative Travel is proud to have been awarded as "India's Leading Destination Management Company" (our 8th win) and "India's Leading Luxury Travel Agency" (our 5th win) and "India's Leading Experiential Holiday Company" (our 3rd win) for our specialist division JungleSutra Wildlife Journeys. This brings our tally to a resounding 20 wins of the globally-acclaimed WTAs.
According to Rajeev Kohli, Joint Managing Director, Creative Travel "We are humbled by the trust and confidence shown by our partners and the travel community, who voted for us from around the world. I want to also extend thanks to our amazing team of passionate individuals that have made the Creative brand what it is today!"Hailed as "The Oscars of the Travel Industry, World Travel Awards celebrates its 25th Anniversary this year and is acknowledged across the globe as the ultimate travel accolade, and aims to celebrate those brands that are pushing the boundaries of industry excellence.
Each World Travel Awards Gala Ceremony offers unrivalled networking opportunities to members of the travel and tourism industry, with the events welcoming government and industry leaders as well as international print and broadcast media. Today, the World Travel Awards brand is recognised globally as the ultimate hallmark of quality, with winners setting the benchmark to which all others aspire.
Each year World Travel Awards covers the globe with a series of regional gala ceremonies staged to recognise and celebrate individual and collective successes within each key geographical region.
The award ceremony was attended by over 300 industry leaders and dignitaries from all over Asia and the Pacific.
The award was accepted by Creative's Chief Operating Officer, Dimple Singh and JungleSutra's Head of the Jungle, Varun Mathur.